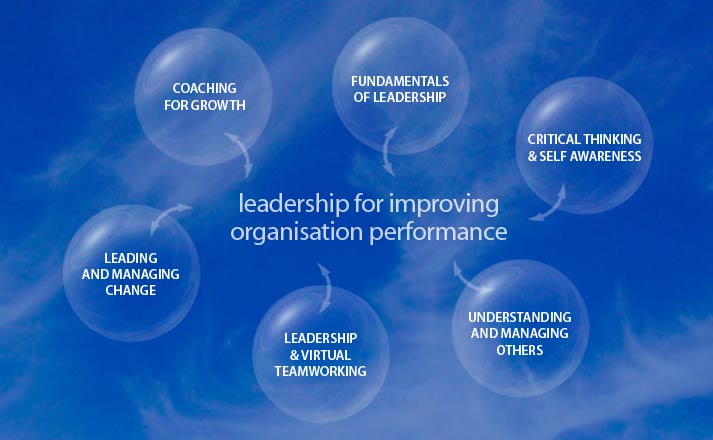 Consistently effective leadership is key to implementing organisational strategy, fostering an environment that supports change and transformation, and sustaining high performance teams. Leaders are found at all levels in an organisation, so our approach to leadership development provides learning that applies to senior, middle and junior managers of an organisation, whether it is matrix based or more traditional in organisational structure.
The HRCgroup Leadership for Improving Organisation Performance provides you with a flexible action-learning approach to leadership learning, focusing on both individual and organisational competencies, and on the desired cultural climate within the organisation, to enhance performance.
Our approach enables you to select the topic areas you desire, which we will then customise to your organisation's requirements. We can use the latest learning technologies to help embed a culture of continuous performance improvement, and deliver the solutions in a variety of formats - from an on-going performance improvement initiative to a structured learning event. Key performance outcomes and measures from management development and learning initiatives in your organisation may include:
clear, measurable and strategically targeted performance outcomes
performance based solutions that support learning at an individual, team and organisation level on an on-going basis
demonstrably tangible application of organisational core competencies and individual skills to delivering strategic commitments

an organisation environment that supports continuous performance improvement and ensures this becomes part of the organisation culture
leverage of e-learning technologies in delivering development initiatives to maximise learning and the use of management time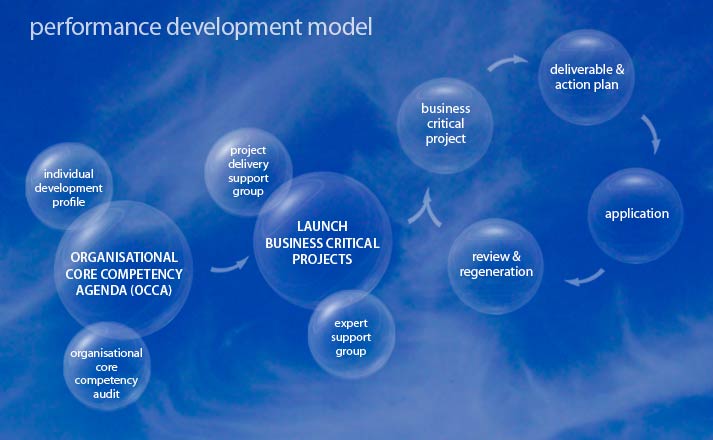 Our Performance Development Model (PDM) supports these requirements by providing a leadership and management development solution grounded firmly in an action-learning environment. Its design offers a high degree of flexibility.
The outcomes of the PDM embrace the way individuals, teams and organisations learn from their experience, and how they apply that learning to achieve measurable organisation goals.
The PDM -
links on-going development needs of individuals and teams with measurable outcomes that meet the strategic requirements of the customer or organisation
optimises an organisation's capability to nurture human potential in the service of strategic business goals, through the use of an action-based learning paradigm
- thus creating and supporting a foundation for continuous performance improvement and business success.
Topic areas for you to consider in supporting Leadership and Performance Development:
Critical Thinking and Self Awareness
Managing Change and Transformation
Leading Strategy into Action
Managing Your People
Virtual Team Working